become an instructor
Join the next big fitness revolution!
We believe everyone should have the opportunity to access a Groove n Glow class and we want your help to do it. We are new, fresh, and eager to reach lots of women and girls who are looking for an opportunity to be active. This is a class that can help all women to be active no matter what age or ability.
Our Groove n Glow classes have been developed over the last 4 years and are going from strength to strength. The average number of attendees in any one night is a massive 40 (this rises in January to 70!). Just imagine 40 women in front of you having the time of their lives, it's an opportunity not to be missed.
Over the last 4 years we have been a lifeline to some amazing women, we support them to leave their day at the door, dance like nobody is watching (they really aren't – they can't be seen :) and get their blood pumping to their all-time favourite tunes. There is no better feeling, and you could be a part of this too!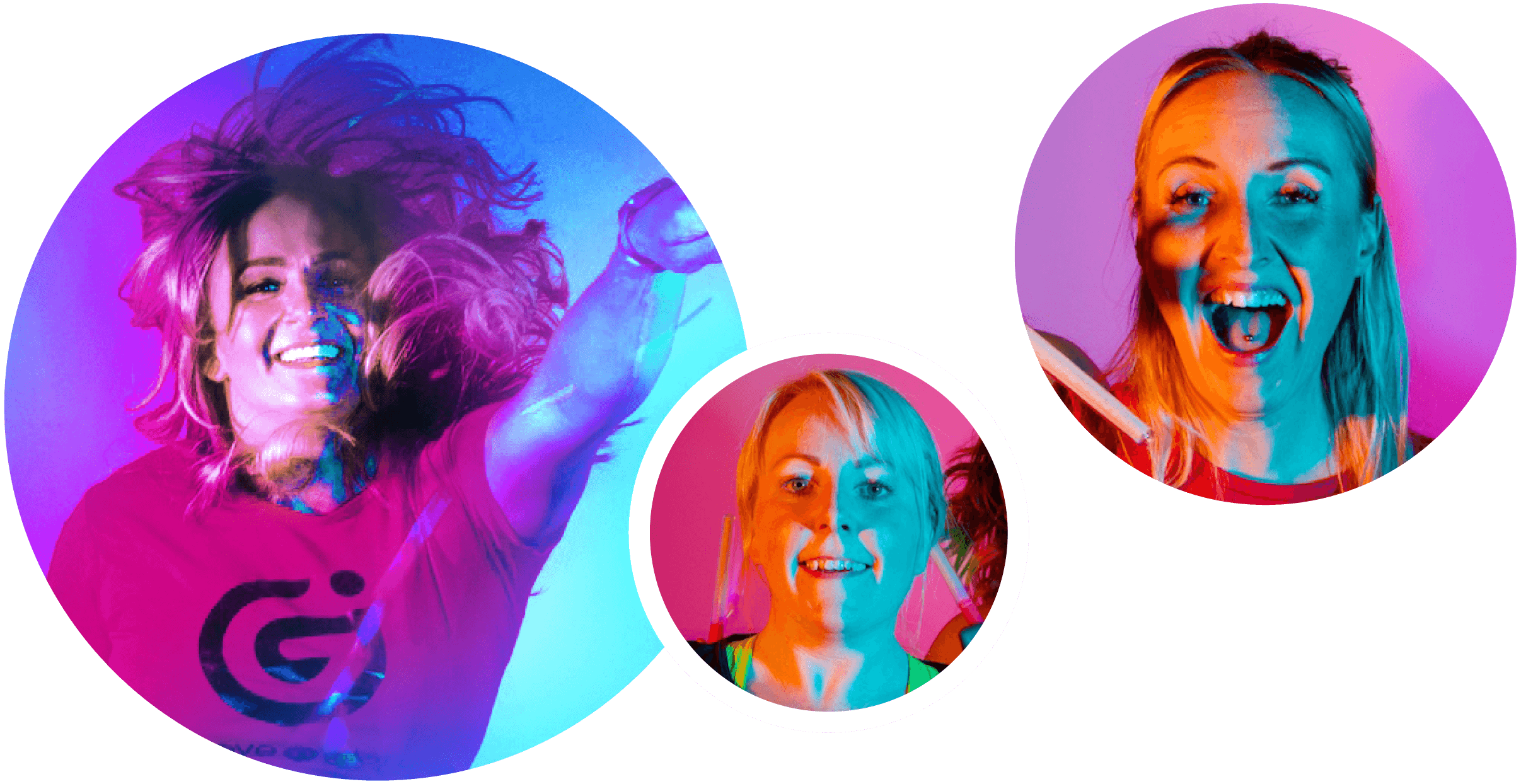 Teach fun original classes supporting women and girls in your local area
This 'in the dark' aerobics inspired workout really does pack out the venues. Your customers can shake their glowsticks, whilst feeling confident and part of our family.
We provide all new and exclusive choreo given in your 8-week training support package along with new tracks brought out each month. This will give you more than enough moves to keep your clients coming back for more. We also welcome your ideas for tracks and choreo each month so you can put your own expertise into it too.
Be given an exclusive patch to make your own and build a successful business
We will tell you who lives in your area and how best to reach them. All the hard work is done by us to understand your area so you can hit the ground running and set up your classes with confidence and ease.
Full start-up equipment and clothing package
You will be supplied with all the equipment and material you will need to set up and run Groove n Glow classes in your area. We can supply the music system, glow sticks, branded clothing, and all marketing material. Your operations guide will take all the hassle away from setting up your business and leave you to get on with the fun bit…teaching your classes.
Full ongoing support to start and build your business
At Groove n Glow we want to fully support you in all aspects of your business. From full training and support teaching the classes themselves to how to run a successful community fitness business. Here at Groove n Glow we are experts in community fitness and understand the ups and downs of setting up and retaining your members. We are with you every step of the way.
You will get an 8 week start-up support package to get you ready to teach your classes along with ongoing support thereafter. This will include:
Training and assessment on our Choreo and understanding the ethos behind the business.
Countdown to your classes starting from our HQ Social Media Sites
Business model support and training
Social media engagement training
How to work in partnership to strengthen your business
Access to other fitness-based qualifications to strengthen your offer
Confidence building
Health and Safety
Access to our exclusive team facebook group
Your very own login to our website where there is a direct link to your own booking system along with all the support you need from risk assessment templates, marketing material, and our PAR Q forms.
Our training and development package is still under development. It is being fully supported by Exercise Movement and Dance (EMD) National Governing Body. Once fully complete it will be endorsed by EMD and giving all instructors even more support through their network. The National Governing Body for Group Exercise | EMD UK.
Enquire today to see when YOU could be the first Groove n Glow Instructor in your area.
Affordability - Income potential!
Earn £54 an hour
We know the money is important, so we've done some calculations for you
Your turnover potential which you could achieve. This is based on a 48 week year:

4 classes a week with 20 participants at £3 pp £240 a week £11,520 a year
7 classes a week with 20 participants at £3 pp £420 a week £20,160 a year
10 classes a week with 20 participants at £3 pp £600 a week £28,800 a year